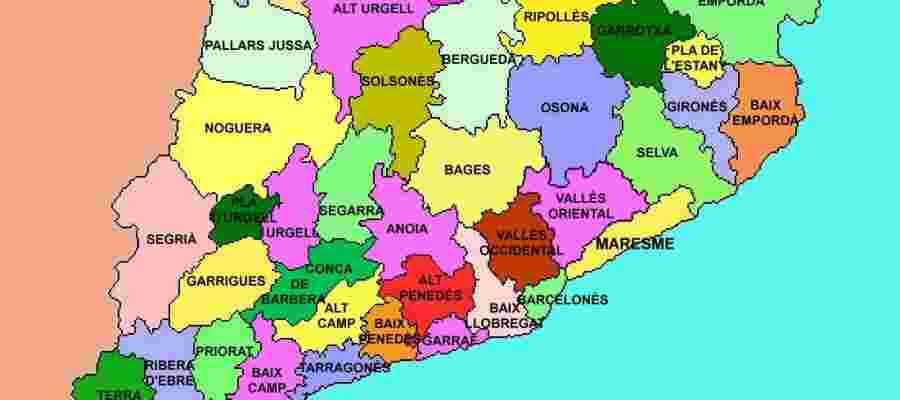 According to the EU, Catalonia is an industrial-based country, which has an open, competitive and sustainable economy, combining talent, creativity, a diversified business fabric and its own system of excellence research, within the framework of a dynamic, entrepreneurial and inclusive society. Multinationals and local companies coexist in Catalonia, consolidated sectors with international leadership and emerging technological sectors.
In order to reassure the population of Catalonia and state that it is the guarantor of its welfare, the Government approved Royal Decree-Law 15/2017, of 6 October to facilitate the change of address for companies located in Catalonia.
However, some of them did not understand the Spanish Government's message of concern for the unity, tranquillity and protection of the welfare of Catalan companies, workers and citizens.
The majority of companies in Catalonia by relevance, are foreign capital. And they stay.
As a preliminary commentary, Amazon will open a new research center in Barcelona in the first semester of 2018 that anticipates hiring more than 100 scientists and software engineers in the coming years. Amazon's new center, located in the Catalan capital, will be dedicated to automatic learning research (machine learning), a scientific branch of artificial intelligence, which requires scientific profiles such as mathematics or physics, according to the U. S. company. The new facility will be located in the technological district of Barcelona, in the same building on Tangier Street that occupies Amazon's Seller Support Hub, which will start operating at the beginning of next year.
If we look at the main companies in Barcelona, the province that produces approximately three quarters of Catalonia's GDP, we can see the preeminence of foreign capital in them. Among the foreign capital companies that stay, we have:
Seat
Owned 100% by the German Volkswagen, is the Catalan company with the highest turnover, with 8,330 million euros according to data from the Chambers of Commerce. The company employs 14,000 people directly at the Martorell plant, and many thousands more indirectly in Zona Franca and other spaces.
Volkswagen Group Spain Distribución SA
The company distributing its own VW, Audi, Skoda and commercial vehicles, although the brand's plant in Spain is located in Pamplona. This company has a turnover of more than 3,000 million euros and its head office in Barcelona has some 360 employees.
The Volkswagen Group alone employs 15,000 people directly in Catalonia
After him, the next group is
Lidl Supermercados SA. Lidl
He opened his first store in Lleida several decades ago and since then he has worked with Montcada i Reixac as a national headquarters. From there, the Schwarz Group company has become, in his own words,"the main customer of the Spanish countryside" and one of the main exporters by buying a lot of product for its European stores. It has a turnover of more than 3,000 million euros (a very important part of it in Catalonia) and also employs more than 10,000 people throughout Spain, a large part of whom work both in the head offices and in the stores it has in Catalonia.
Nissan Motor Ibérica SA
It has a turnover of 2,230 million euros and has 4,500 employees in Barcelona, at the Zona Franca factory. The Japanese have only said that they are asking the authorities to maintain a competitive environment, but the bulk of their workforce in Spain is in Catalonia (just 500 employees outside Catalonia).
Later on you will find companies known by all as
Nestlé Spain SAU,
In Spain since 1905 and that has 750 employees in its coffee factory in Girona plus approximately 1,000 other employees in Esplugues de Llobregat, headquarters of the company in Spain and where the administrative or marketing services are centralized. Turnover 2,166 million euros.
BASF
A German company with an important industrial area in Tarragona, a petrochemical complex that has become one of BASF's three most important integrated production centres in Europe and the only one with an outlet to the Mediterranean Sea. It has about 914 employees in Spain according to data from the Ministry of Economy. According to data from the chambers of commerce, in 2015 it had a turnover of 1,500 million euros in Catalonia.
Behind it is the Swiss pharmacist
Novartis
With 1,500 million euros in Spain turnover according to its own data. It has 3,000 employees throughout Spain and a large exhibition in Catalonia, where the majority of them are located. Not only is it headquartered in Gran Via de les Corts Catalanas, but it also has 4 factories in Catalonia: Barberà del Vallès, El Masnou, Les Franqueses and Palafolls.
We also have among the most important multinationals in Catalonia for invoicing to:
Cargill
An almost unknown but very important North American food multinational that manufactures feed, oilseeds and other compounds for the food market. It had a turnover of around 1,350 million euros in 2014 on the Peninsula. It employs 700 people, many of them in its Barcelona and Tarragona offices.
Schneider Electric Spain SA
With 997 million euros, it is the only French company in this classification. It has about 3,000 employees throughout Spain, most of them in Catalonia.
Finally,
Bayer
Which has a turnover of 823 million euros in Spain according to its own data and is headquartered in Sant Joan Despí (Barcelona). This is where the Bayer Service Center Barcelona Shared Services Centre, which provides accounting services to subsidiaries in Europe and Latin America for approximately 25% of Bayer Group's total worldwide turnover, is located.
Catalan companies that stay in Catalonia.
The company that bills more money for the land of Ponent, bonÀrea Corporació, in Guissona, does not plan to leave Catalonia in the face of a possible declaration of independence. Sources from the food group have also said that they do not plan to hold any extraordinary meeting to address the situation of Catalonia in the coming days and that their objective is now to continue working with'' normality''.
Mango
Mango does not have on the table the idea of leaving Catalonia, and it has not raised it. Headquartered in Barcelona, Mango has 13,400 employees and more than 2,700 stores in over 100 countries. Isak Andic's company made a negative profit of 61 million euros in 2016, as opposed to the 4 million euros of profit it made in 2015.
Grifols
Based in Barcelona, with a stock market value of around 10.4 billion and 16,808 employees as of June 30th, the multinational company has already dropped its stock market value to 16,808 employees and has not ruled out moving if the political scenario affects its business. His first executive until January and since 1987, Victor Grifols, has never hidden his sympathy for Catalan nationalism. In recent years, the company has concentrated much of its activity abroad, especially in low tax territories such as Ireland. Spain barely accounts for 5% of its sales.
FCC
The fourth Spanish construction company in terms of market value (around 3,000 million), after Ferrovial, ACS and Acciona, is not planning to change its headquarters, located in Barcelona, despite the "earthquake" caused by the situation in Catalonia, as expressed by its now-major shareholder, Carlos Slim. The Mexican billionaire ruled out the move on Tuesday, a few hours after Catalan President Carles Puigdemont announced in Parliament an immediate suspended declaration of independence.
Almirall
The pharmacist of the Gallardo family maintains its headquarters in Barcelona despite the open opposition to the independence of its president, Jorge Gallardo, who in September 2015 warned his employees of the "consequences" of a victory of secessionism. Jorge Gallardo and his brother Antonio, both reference shareholders of Almirall (and both of them under the 2012 tax amnesty) have already transferred in 2012 to Madrid the company that channels their participation in Almirall, Grupo Corporativo Landon. With 14,430 employees and sales of 1,585 million in 2016, Almirall's stock market value (listed on the Continuo) is around 1,450 million.
Fluidra
The swimming pool manufacturer, based in Sabadell (Barcelona), with a workforce of 4,431 people, sales of 812 million in 2016 and a stock market value of some 980 million, has as executive president since 2016 Eloi Planes, linked to the independent employer FemCAT, as stated in the annual report of this organization.
Miquel and Coasts
the wastepaper basket, manufacturer of smoking paper Smoking, maintains its headquarters in Barcelona. With a stock market value of some 610 million, annual sales of 227 million and 790 employees, it is listed on the Continuous Market.
Ercros
The historic industrial group, based in Barcelona, has a value of 280 million, 1,366 employees and sales of 602 million in 2016. Its president is Antonio Zabalza, former Secretary of State for Finance and former cabinet director of Felipe González.
Reig Jofre Laboratory: Headquartered in Sant Joan Despí, Barcelona, the pharmaceutical company founded in 1929 is listed on the Continuo and has 1,032 employees, annual sales of 161 million and a capitalization of 164 million.
Borges Agricultural Nuts
The food company, based in Reus (Tarragona), has been listed on the secondary market since 1987 and last summer made the leap forward, with a 110% increase in value since then. It has 389 employees and a capitalization of around 116 million.
Fersa
The renewable energy company, which will be relocated as Audax Renovables, has its headquarters in Badalona and is listed on the Continuo. It has a turnover of 30 million in 2016, twelve employees and a stock market value of around 60 million.
1nKemia IUCT
This biotechnology company, founded in 1997, is listed on the MAB and has a value of some 53 million. Based in Mollet del Vallès (Barcelona), 68 employees and subsidiaries in Colombia, the United States, the United Kingdom and Brazil, in 2016 reported sales of just over 2 million, according to its financial statements for that year, which were approved by its auditor with qualifications (something very common in MAB). Among its shareholders is a body of the Generalitat, the Institut Català de Finances (ICF), with 3.29% at 30 June.
And the list is much longer.